If you're reading this blog, you probably already have some idea of what immersion cooling is about. But, as with any alternative technology, you also might have preconceived notions – dare we say reservations – about whether it belongs in your data center. To that we ask:
Are you losing sleep wondering how you'll financially and operationally accommodate next-generation application platforms?
Do you need to create a high-density zone in your legacy data center?
Do you need an IT cabinet in your corporate office? You know, for those leftover servers from a move to the cloud, or to support that new application your engineering/dev teams are sandboxing.
Do you need an environmentally resilient solution to cost-effectively add high-density compute on the edge?
Or, have you looked at immersion cooling and thought: "GRC should make a smaller, super-easy to setup version of their ICEraQ?"
If you answered yes to any of those questions you should get to know our new ICEraQ™ Micro. It's our innovative standalone, micro-modular immersion cooling system that lets you add high-density compute – virtually anywhere
Tackle the Heatwave – Without the Headache
While we were all binge-watching Game of Thrones, next-gen applications driven by GPU-accelerated servers snuck in and sparked a heatwave in data centers around the world, pushing the boundaries of infrastructure in the process.
But it's only a few high-density servers, you might say. Well, that only makes the problem harder, you're not going to upgrade your whole data center for a few high-density servers.
That's why we designed the ICEraQ Micro. It gives you the flexibility to fit a self-contained, high-density immersion cooled rack in spaces you never thought hardware could go. No need to rebuild. No yearlong ordeal for design, approvals, and construction.
ICEraQ Micro is Compact, Cool, and Complete
The beauty of the ICEraQ Micro is that it's a compact, completely integrated, immersion cooling system in a very small footprint—one that can be ordered and deployed easily, with minimal site requirements. Capable of cooling up to 50 kW, it features:
• A 24U Immersion-Cooled Rack
• An Integrated CDU
• Minimal Site Requirements — Just Add Power & Water
• Environmental Resilience with ElectroSafeTMCoolant
• Unmatched efficiency of 1.03 mPUE
And it provides all this at half the capital expense of similar solutions.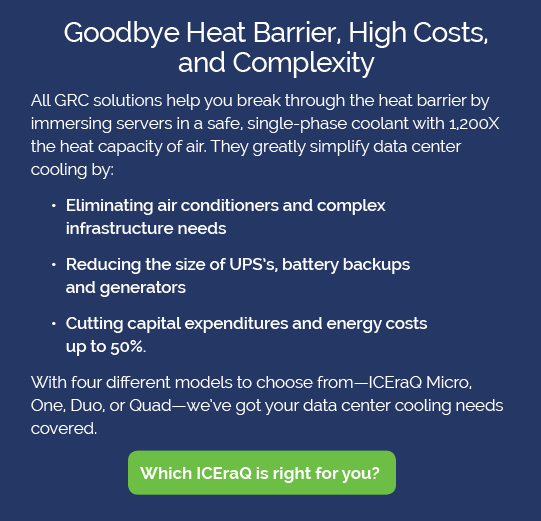 ICEraQ Micro's Many Uses: Unpacked
Now that you've been introduced to the ICEraQ Micro, let's break down some the reasons why it belongs among your IT assets:
High-Density Zone Integration
Instead of trying to spread the heat load out and moving server racks like a game of Tetris and wondering how you're going to integrate that GPU-based neural network, toss the 20-foot Gantt chart, and give GRC a call. We'll ship you an ICEraQ Micro. In a matter of weeks, you can be up and running, and take that long vacation you've been promising yourself for the last five years.
Edge Deployments
Or maybe your service area is expanding and now you need edge computing support in downtown Manhattan—quickly. Or an IoT-connected factory way out in Dogpatch, Montana. You can put a 24U ICEraQ Micro in almost any room in any existing building with no need to build a huge infrastructure. It's totally self-contained. All you need is a level floor plus water and power service and you're good to go.
Standalone Server Rack
Here's another suggestion. Got servers without a home? Maybe some high density orphans from your transition to the cloud? ICEraQ can give them new life, offering an easy and cost-effective way to place them right where you need them, without worrying about cooling and reliability.
Pilot or Proof-of-Concept Installations
Finally, let's say you're an immersion cooling convert but face a conference room full of skeptics and a withering gauntlet of budget approvals for your visionary data center. Well, because of its comparatively low cost and ease of deployment, ICEraQ Micro makes a great entry point and an easy way to dip your toe into the water (or in this case coolant) and let the results strengthen your decision defensibility before taking the plunge.
The Future is Now
"Within five years…10 on the outside, there will be no alternative to immersion cooling." So said Dr. Satoshi Matsuoka of the vaunted Tokyo Institute of Technology. To be sure, the continued growth of GPU accelerated applications and edge computing is to some degree Inescapable. What doesn't have to be is the stress, expense, timing and uncertainty of how IT professionals deal with it.
GRC's new all-in-one ICEraQ Micro alleviates all those concerns.
Ready to bring immersion cooling to your data center?
ICEraQ Micro may be just what you're looking for.  Send us an email at info@grcooling.com or call +1 (512) 692-8003 and we'll help you get started.  A GRC associate will reach out and run the numbers for you.
Stay informed on GRC's insights & expertise of data center liquid-immersion cooling & watch out for the next GRC blog installment.